How much sod do I need for my yard?
Feel free to ask one of our associates for assistance or here is a helpful equation:
Length X width ÷ 9 = yards EXAMPLE: 12 X 12 ÷ 9 = 16 yards
How do I prepare my yard for installing sod?
For the best results, have your soil tested to determine if you need an additive such as lime, peat or compost. Till up your yard from 4 to 6 inches, then rake it down and remove rocks, roots and large clods for an even, clean ground. Eliminate drainage problems by having the soil slope away from a structural foundation.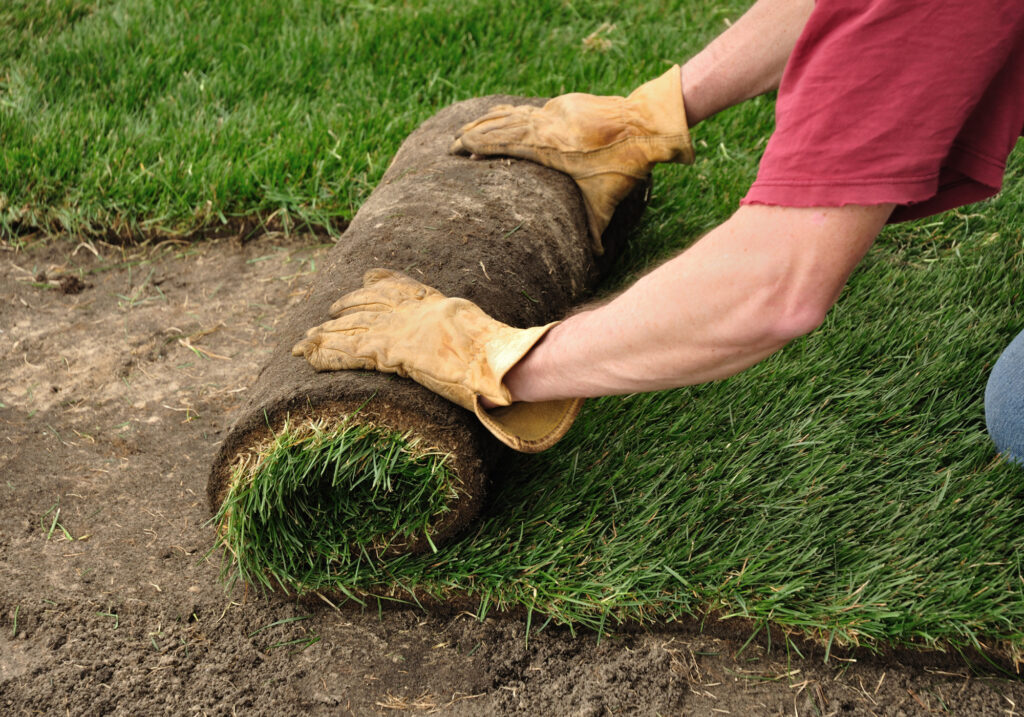 What to keep in mind?
Install your sod as soon as possible and water it immediately. Turf is a living plant that requires ground contact and moisture to survive.
If you are unable to lay the sod down, protect it under the shade, covering it with a moist burlap sack and sprinkling it with water.
Begin installing sod along the longest, straight line such as along a sidewalk or driveway. Butt and push edges and ends against each other tightly, without stretching. Avoid gaps or overlaps. Stagger the joints in each row in a brick-like fashion, using a large sharp knife to trim corners. Avoid leaving small strips at outer edges as they will not retain moisture. On slopes, place the turf pieces across the slope. To prevent causing indentations or air pockets avoid repeated walking or kneeling on the turf while it is being installed or just after watering. To improve sod to soil contact and remove air pockets, roll the entire area after installation.
What are some helpful tips for mowing?
Once your grass is established you can begin mowing, by leaving your grass clippings on the lawn, you are adding nitrogen almost continually, which can reduce the need for fertilization by as much as 25%.
| | | |
| --- | --- | --- |
| Sod Type | Optimum Height | Mow When It Is |
| St. Augustine | 2.0 inches | 3.00 inches |
| Bermuda | 1.5 inches | 2.25 inches |
| Centipede | 1.5 inches | 2.25 inches |
| Zoysia | 1.5 inches | 2.25 inches |