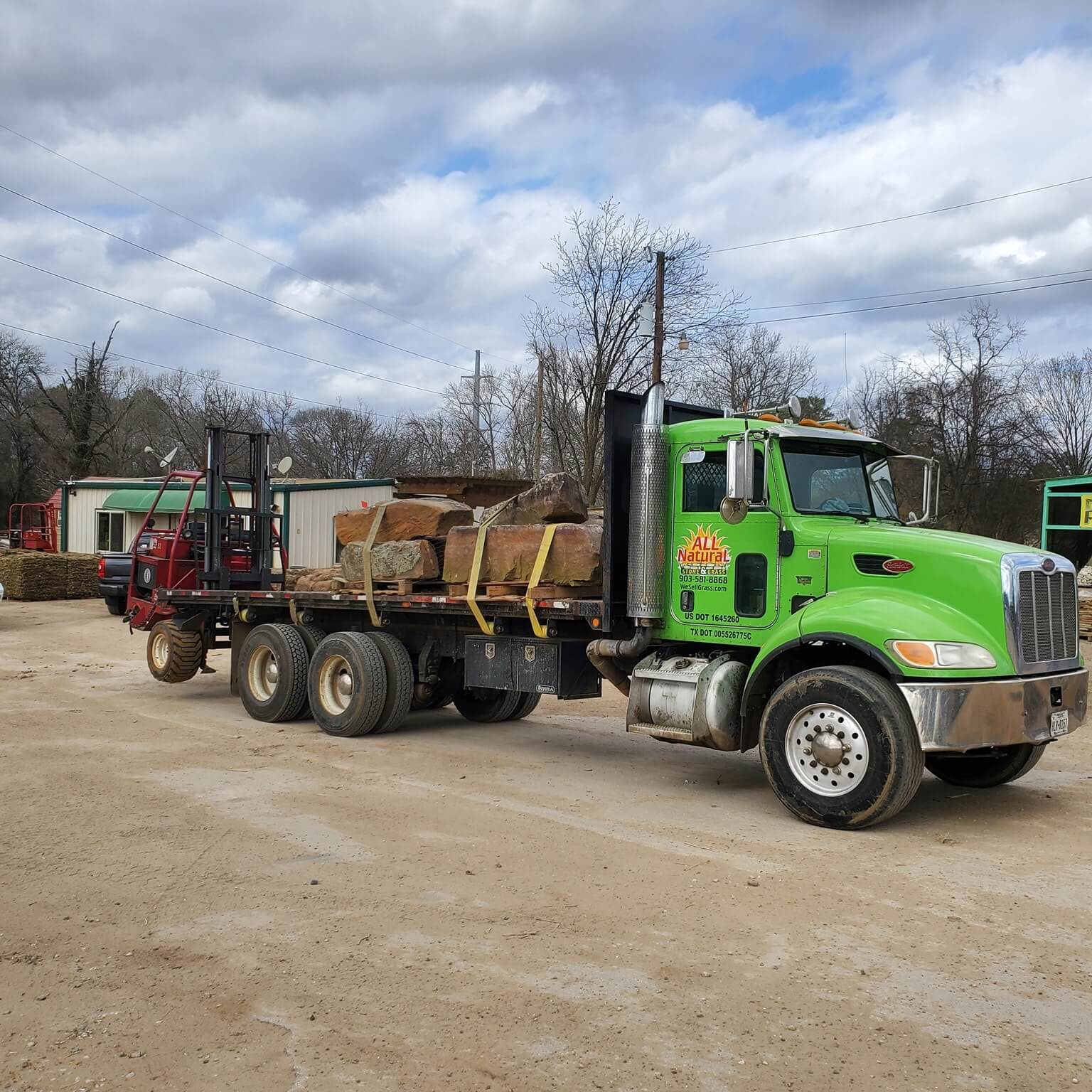 What Are the Delivery Requirements?
Flat Bed Material: We have a minimum pallet requirement for all flat bed deliveries. Depending on what city/town you live in will determine how many pallets required for your location. For example, in Tyler there is a 1 pallet minimum for any palletized deliveries in addition to a delivery fee. This goes for all palletized material. However, you are not required to have the same palletized material delivered. If you wish to have a pallet of flagstone and a pallet of grass delivered at the same time you are more than welcome to do so. ALL deliveries are priced to include unloading and when possible, spotting materials where you need them with our forklift.
Dump Truck Material: We basically use the same concept for dump truck material as we do palletized material. The minimums are a bit different, however. For example, in Tyler if you wish to have pea gravel delivered there is a 4 cubic yard requirement. We can carry a max of 8 cubic yards per load. You are welcome to have different materials in one dump truck. However, we cannot prevent materials from mixing in the bed of the truck.
How Does Delivery Work?
We do our absolute best at delivering your materials when you want them! We do not guarantee times and do not offer time slots. You are welcome to request a morning or afternoon delivery and we will attempt to deliver within that desired time frame. If you need specific materials in the early morning hours, we recommend having those materials delivered the day before. Spring is especially busy for us and we may have to deliver outside of normal business hours. If that is the case, we will contact you. You are not required to be home as we do not access the inside of your home, ever.
On the day of delivery, one of our friendly employees will contact you before we leave our current location with your material. While on location, if not beforehand, the driver will discuss with you where you want your materials placed. In the event the driver cannot safely set materials where you need it they will notify you and will try their best to set the material as close as possible to the desired location.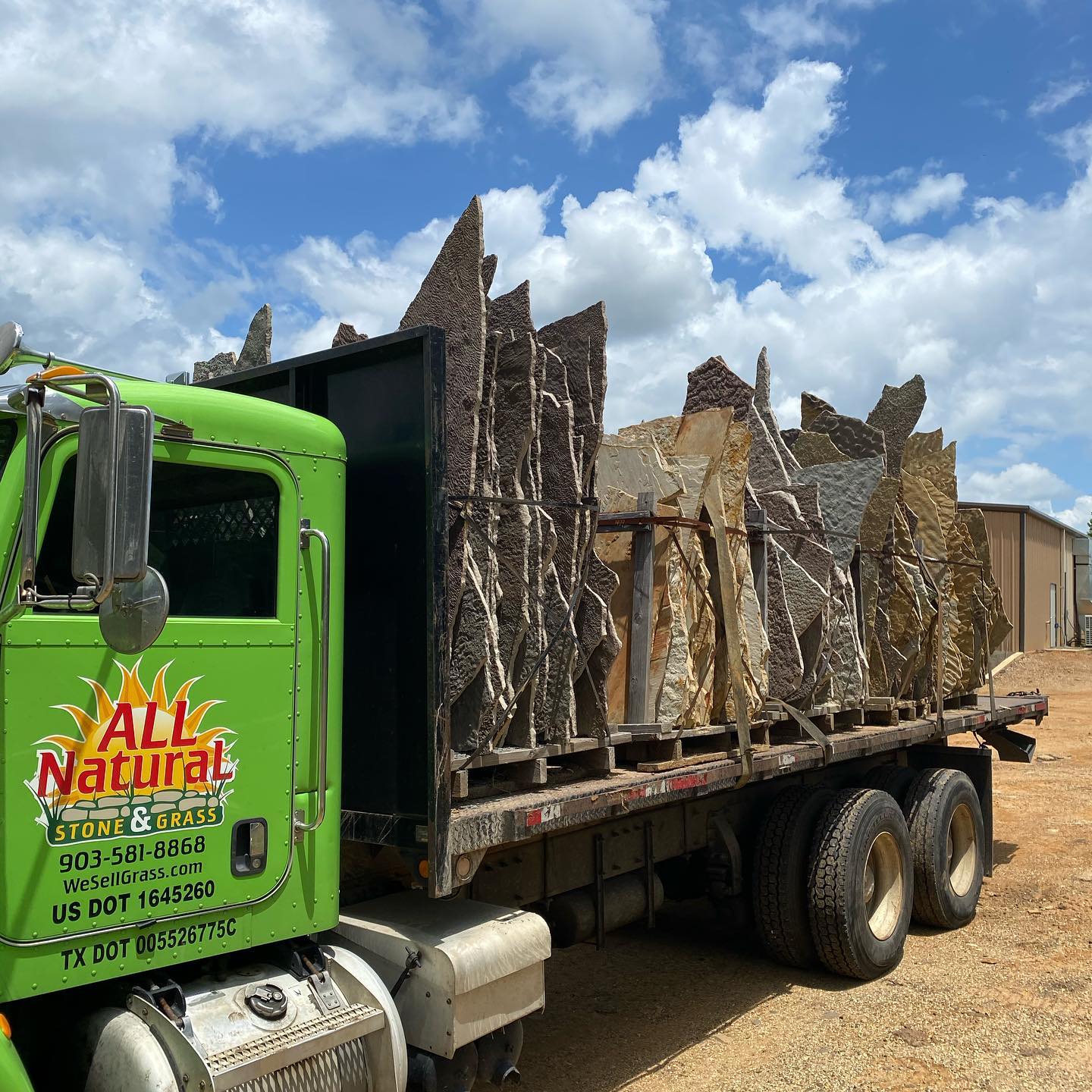 Frequently Asked Questions
Delivery fees are based on your location. We do not charge per pallet. We offer flat rates for delivery. Whether it is 1 pallet or more.
We have the ability to deliver everything we sell. As long as minimum requirements are met, of course.
The best way you can prepare for delivery is to have an understanding of where your materials are going to be installed. We need a 9.5-foot area both tall and wide for all of our equipment. Please mark all septic tanks, sprinkler heads and any important items that may be in the area, to prevent any unwanted or unforeseen issues. We do not drop materials without payment upon delivery. If you have not already paid please call the office or make arrangements to pay the driver upon arrival.
If you need to reschedule a delivery we try to be as flexible as possible. Most bulk material and palletized material can be easily rescheduled with a quick phone call to us. However, all grass orders MUST be rescheduled at least 2 days prior to delivery day.
Rescheduling of Deliveries: If for some reason we have to reschedule your delivery we will
contact you as soon as possible. Sometimes this means the morning of delivery. The grass is a perishable item and we like to make our customers happy. We do not "stock" grass. We bring in fresh shipments every single day. Because of this, once in a blue moon, we may have a shipment break down which could cause a delay in receiving your materials.
We do not guarantee the prevention of any damages to property. If the driver feels there may be damage done to the property, they have the right to refuse setting material in that area and will drop materials as close and as safely as possible. If you absolutely must have materials placed.
18-wheeler- this truck has the capability to deliver up to 18 pallets of material.
Bob tails- This truck has the capability to deliver up to 10 pallets of material.
Navigator- This is a truck-mounted forklift we use to offload materials.
Hopper- these are heavy-duty bins that allow us to deliver bulk materials on our flatbeds. (we can only use these if it fits on the truck with your other materials.)
Single axel dump trucks- This dump truck has the ability to haul 8 cubic yards of material.